Holiday Express and Toy Drive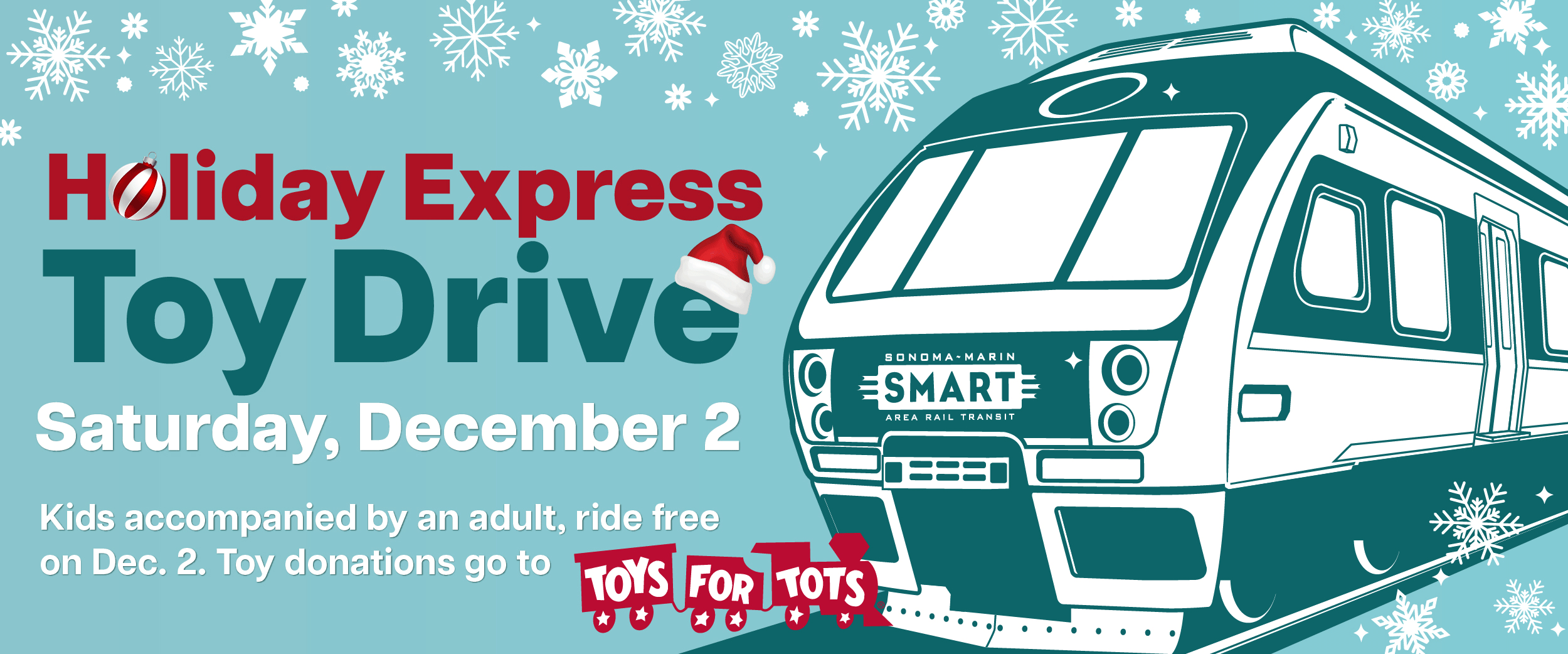 Make the SMART Holiday Express part of your holiday festivities!
Each holiday season, SMART festoons a train with holiday cheer to celebrate the season. The Holiday Express will operate throughout December.
Holiday Toy Drive on December 2
On Saturday, December 2, SMART will host a special Toy Drive event on ALL TRAINS. During the December 2, Toy Drive, each adult passenger who brings a new, unwrapped toy to donate will ride free. Kids accompanied by an adult will also ride free that day. The entire community is invited to bring a toy and enjoy the holiday cheer aboard SMART.
TAKE A PICTURE WITH SANTA. This year, Santa Claus will be aboard the Holiday Express train for trips 5 and 6 on Saturday, December 2. Everyone is welcome to create holiday memories by snapping a picture with Santa! Trip 5 departs southbound from the Sonoma County Airport Station at 9:32 AM, and trip 6 departs northbound from the Larkspur Station at 11:30 AM. Santa and his holiday helpers will be on the train celebrating the season and accepting new, unwrapped toys to give to those in need. Donated toys will go to the Toys for Tots campaign.
FREE PARKING is available at these SMART stations: Sonoma County Airport, Rohnert Park, Cotati, Petaluma Downtown, Novato San Marin, Novato Downtown, Novato Hamilton, and Larkspur.
STUFF A BUS WITH TOYS -  Let's make this holiday season even brighter by joining forces with Santa Rosa CityBus, Petaluma Transit, and Golden Gate Transit to STUFF A BUS WITH TOYS! On December 2 you can also contribute to this heartwarming cause with our transit partners. Let's come together as a community, spread joy, and make this holiday season unforgettable for those in need. Your generosity will truly make a difference.
Santa Rosa CityBus will be stationed at Santa Rosa City Hall on 1st Street from 9 AM to 3 PM. Donate a toy and be entered in a raffle to win a 31-day pass to ride CityBus.
Petaluma Transit will be present at the Petaluma Holiday Open House and Marketplace from 11 AM to 5 PM. Their bus will be in front of the new Amy's headquarters at Western Avenue and Kentucky Street accepting toy, food, and gift card donations. In addition, Petaluma Transit is providing free fares on weekends through December 31, 2023 as a holiday gift to passengers.
Golden Gate Transit will be collecting toys at Washington Square Marketplace in Petaluma from 10 AM to 4 PM. Each person who donates a toy to Stuff this Bus will receive a free ticket to ride Golden Gate Transit. Look for the Golden Gate Transit bus conveniently parked near the Panda Express restaurant on McDowell Blvd.
This winter, communities and shopping districts along the rail line will host holiday events celebrating the spirit of the season. Take the SMART train and public transit to visit festively decorated downtown dining and shopping districts in Larkspur, San Rafael, Novato, Petaluma, Cotati, Rohnert Park, and Santa Rosa. Take a beautiful stroll or ride a bike along the waterfront in Larkspur or the riverfront in Petaluma. Below are a few of the festivities you can travel to on the train.