Construction and Maintenance Updates
Highway 37 was reopened at 4:00 AM Sunday, May 21
SMART contractor Stacy and Witbeck closed State Highway 37 to reconstruct the railroad crossing near the junction of Highway 121 and Highway 121 at Sears Point on Saturday, May 20, at 3:00 AM and reopen Highway 37 on Sunday, May 21, at 4:00 AM.
Agency Contact: Matt Stevens, Communications and Marketing Department
Office: 707-794-3074 | Mobile: 707-981-1520
Email: mstevens@sonomamarintrain.org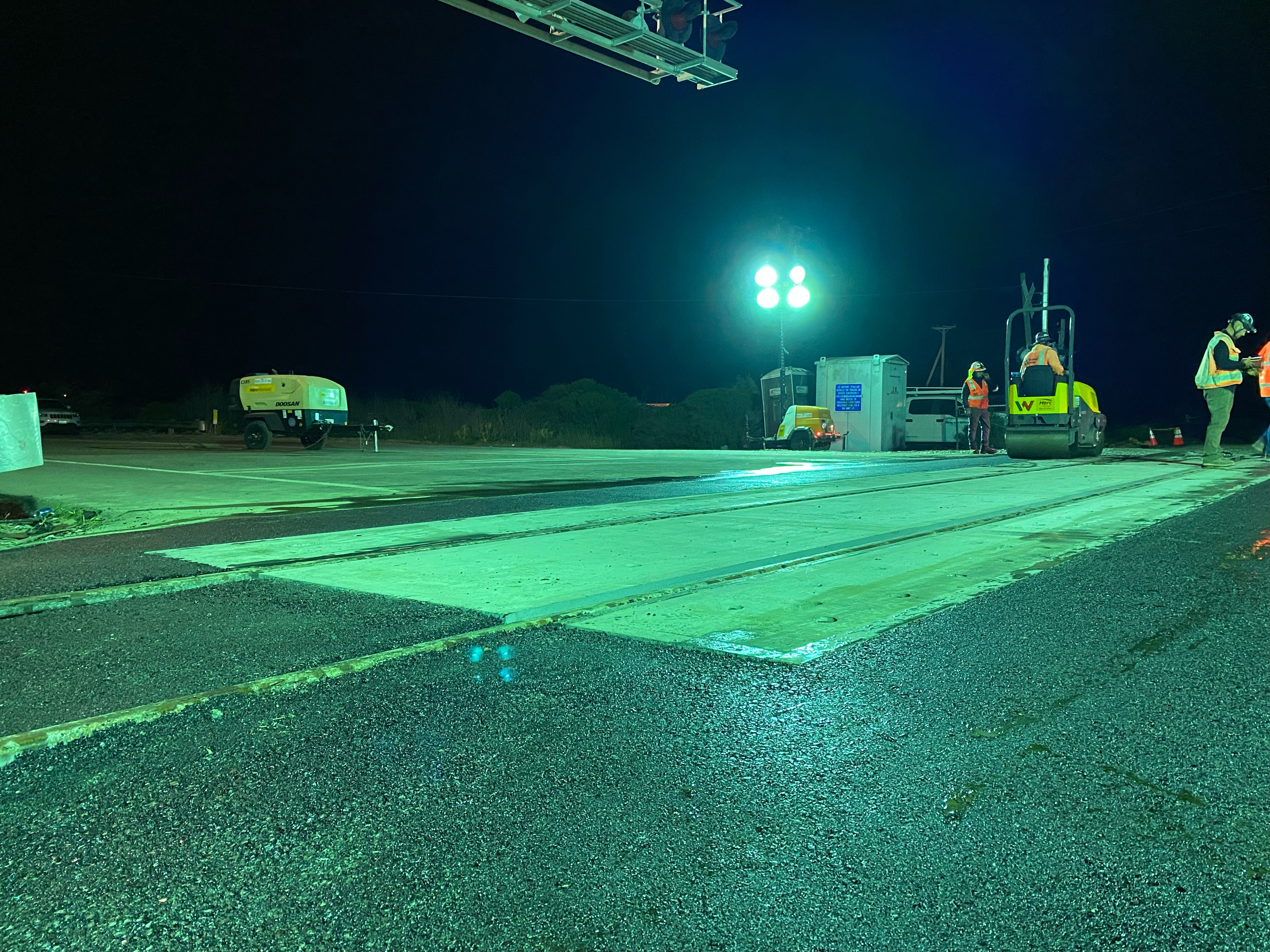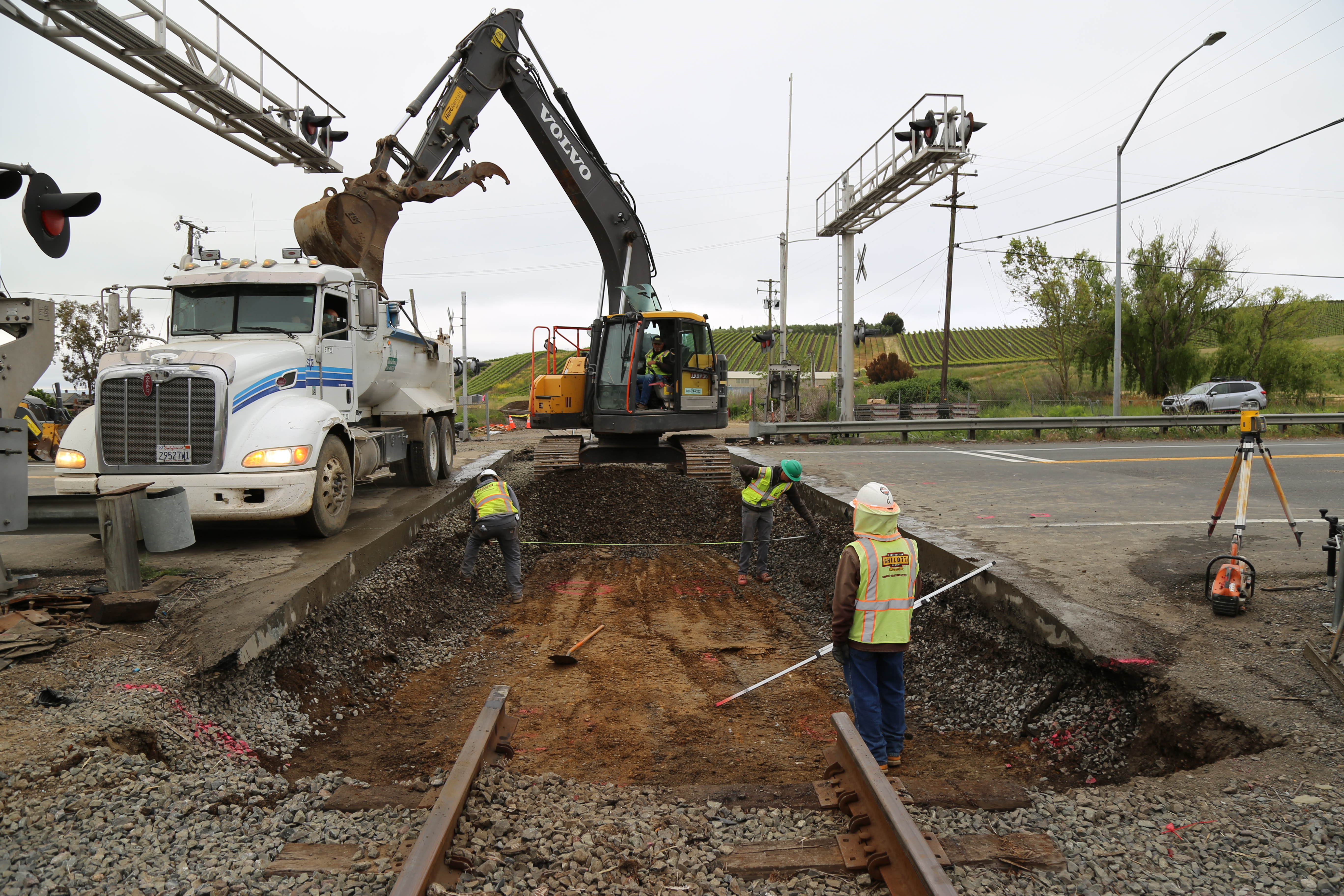 Pedestrian Crossing Upgrades in San Rafael
Sonoma-Marin Area Rail Transit (SMART) contractor Central Pacific Engineering will be working to make improvements to pedestrian railroad crossings at Mission Ave. Pacheco St., and Paloma Ave. Monday, March 27 — Friday, April 10. Work to be done includes — Mobilization, Site Prep, Demolition, Installation of Improvements, and Job Site Cleanup. 
Late evening activities between 6:00 — 10:00 p.m. will be
performed on some evenings.  
Please note this schedule is weather dependent and subject to change.
See map below with construction zones in Red.
For more information about the project, please visit the SMART web page at: www.sonomamarintrain.org
For more information, call the SMART Customer Service line: (707) 794-3330, or email SMART at: customerservice@sonomamarintrain.org.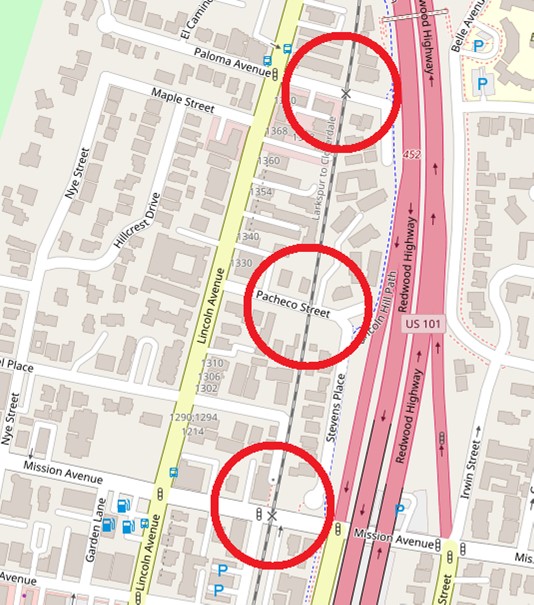 SMART Pathway Construction Project
SMART was selected to receive a $12.6 million grant to fund its bicycle and pedestrian pathway project in Petaluma, Rohnert Park and Santa Rosa. For more information on SMART Pathways, please click here.
SMART has completed the following segments:
Healdsburg: Front Street to Grant Street,
Santa Rosa: Sixth Street to Guerneville Road,
Rohnert Park/Cotati: East Avenue to Golf Course Drive.
Rohnert Park: Sonoma Mountain Village to the Cotati SMART Train Station,
Southwest Santa Rosa: Hearn Avenue to Bellevue Avenue, with pathway connections to Downtown Santa Rosa SMART Station.
Novato/Petaluma: SMART Novato San Marin Station to County Line,
Novato: Rush Creek Place to SMART Novato San Marin Station,
Novato: SMART Novato Hamilton Station to Hamilton Parkway,
Novato: Franklin pedestrian crossing (near Sutter Health) to Grant Street in downtown Novato (future Novato Downtown Station),
San Rafael: North San Pedro Road to SMART Marin Civic Center Station,
San Rafael: Merrydale Road to Mission Avenue.
---