Train and Ferry connections to Giants games 2023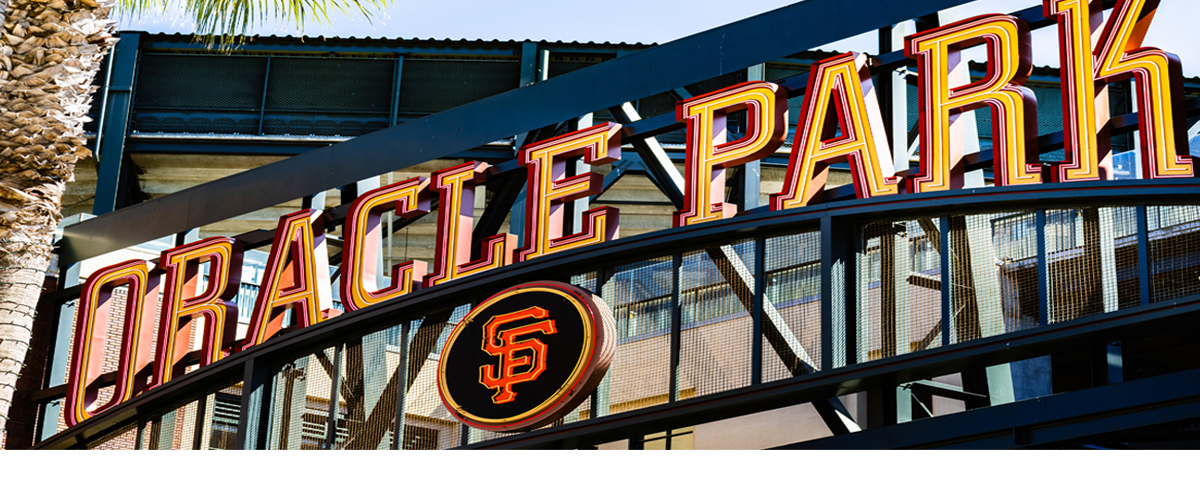 Train and Ferry connection to Giants games 2023 season
North Bay fans of the San Francisco Giants can enjoy a convenient and car-free way to travel to Oracle Park, avoiding traffic and parking hassles. Fans can travel from their closest SMART station to the Larkspur Station and catch the Golden Gate Oracle Park Ferry at the Larkspur Ferry Terminal. The ferry arrives directly at the Oracle Park ferry landing, depositing passengers just steps from the Oracle Park entrance.
Schedule of Giants games with train and ferry connection
Below are the Giants games where there is both a train and ferry connection. Golden Gate's special Oracle Park Ferry serves all Giants home games.
SMART Train Tickets
Weekend Day Pass - SMART's Weekend Day Pass is ideal for passengers traveling to Giants games on Saturdays or Sundays. This pass offers unlimited train rides for one weekend day, and costs is $10 for adults and $5 for seniors, youths, and persons with disabilities. The weekend pass is offered only on the SMART eTickets App.
SMART Fares - Train fare is $1.50 for each zone traveled. Seniors, youth, low-income, and passengers with disabilities have a half-price discount rate of $0.75 per zone traveled. A trip from the Sonoma County Airport Station to Larkspur is 5 zones traveled.
Youth Ride Free this Summer - Youth K-12 and under ride SMART for FREE from June 1 through August 31, 2023, as part of the Summer Youth Ride Free Program.
SMART eTickets Mobile App - SMART's eTickets App is ideal when purchasing train tickets for multiple people. Discount fares for seniors, youths, and persons with disabilities are available on the SMART eTickets App. Download the free app from the Apple App Store or Google Play Store by searching for SMART eTickets.
Clipper Card - SMART accepts Clipper, the same payment system used by other Bay Area transit providers.
Sail and Rail Combo Ticket - The $12 Sail and Rail combo ticket is not available for connections to Oracle Park Ferry however, it may be used for ferry trips to the San Francisco Embarcadero which is a 1.2-mile walk from Oracle Park (an approximately 24-minute walk). View the regular ferry and train schedule. Tickets for the Oracle Park Ferry are sold separately (see below).
Oracle Park Ferry Tickets
Golden Gate's special Oracle Park Ferry serves to ALL Giants home games including evening games. Oracle Park Ferry tickets must be purchased online. Advance purchase of tickets is required. These ferry tickets are NOT available at Golden Gate Ferry terminals. Oracle Park Ferry tickets are NOT refundable or exchangeable. Clipper (mobile app or card) is NOT accepted on this service.
Oracle Park Ferry tickets cost $15.50 each way, per person. Children 4 and under FREE with registration (limit 2 children per fare-paying adult). All children 4 and under must be registered to ride the Oracle Park Ferry, see website for details.
The Oracle Park Ferry departs from the Larkspur Ferry Terminal and arrives in front of Oracle Park. On the return trip, the ferry departs 30 minutes after the last out or after programmed events such as fireworks have concluded.
Trip Planning Information
Accessibility - SMART and Golden Gate ferries are accessible to all passengers. Trains, platforms, and fare machines are accessible. Train doors marked with an accessibility icon indicate the closest accessible seating.
Bicycles - Bikes are welcome on board the trains and ferries. Trains and ferries are equipped with racks to hang bicycles. All SMART stations have bicycle parking, including secured bike lockers provided by BikeLink.
Parking - FREE parking is available at the following SMART stations: Sonoma County Airport, Rohnert Park, Cotati, Petaluma Downtown, Novato San Marin, Novato Downtown, Novato Hamilton, and Larkspur.
SMART Customer Service - If you need assistance planning a trip to a Giants game, please call Customer Service at 707-794-3330 (TTY 711), or email us at customerservice@sonomamarintrain.org. Customer Service is available from 8 AM - 5 PM, Monday through Friday.
Golden Gate Ferry Customer Service - To reach Golden Gate's Customer Service please call 415-455-2000 (TTY 711). Customer Service is available from 7 AM to 6 PM, Monday through Friday.