Get a discount Clipper Card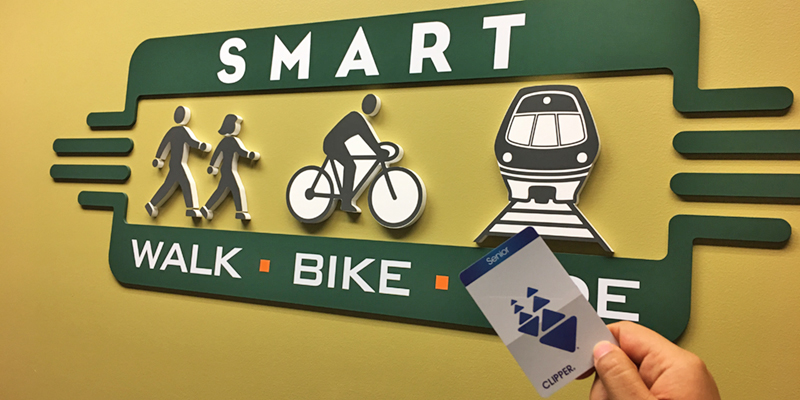 Youth (5-18 years of age) and seniors (65 years of age or older) receive a 50 percent discount on SMART by using a discount Clipper card. Discount cards may be applied for through an online PDF application at  www.ClipperCard.com/discounts or at participating transit offices. Discount Clipper cards are not available at SMART station fare machines and must be obtained in advance of your trip.
The PDF application requires the application and supporting documentation to be mailed, emailed, or faxed. Clipper Customer Service will mail your card directly to the address you provide on your application. Cards typically arrive within seven days.
If you want to get your discount Clipper card right away, visit SMART or another local transit office. Below are the local North Bay transit offices that issues youth and senior Clipper cards.
Locations
How Card is Provided
North Bay
YOUTH
SENIOR

Fairfield Transportation Center

2000 Cadenasso Drive, Fairfield

Monday–Friday, 8 a.m.–12 p.m. 
and 1 p.m.–5 p.m.

Closed first and third Fridays of each month

Immediately
Immediately

Petaluma Transit

555 N. McDowell Blvd., Petaluma

Monday–Friday, 9 a.m.–4:30 p.m. 
Saturday, 9 a.m.–3 p.m.

Immediately
Immediately

San Rafael Transit Center Customer Service Center

Golden Gate Bridge, Highway 
and Transportation District 
850 Tamalpais Ave., San Rafael

Monday–Friday, 7 a.m.–6 p.m.

Immediately
Immediately

Santa Rosa CityBus

Santa Rosa Transit Center

2nd St. between B St. and Santa Rosa Ave., Santa Rosa

Monday–Friday 8 a.m.–12:30 p.m. and 1 p.m.–4:30 p.m.

Immediately
Immediately

SMART

5401 Old Redwood Highway, Suite 200, Petaluma

Monday–Friday, 8 a.m.–5 p.m.

Immediately
Immediately

Sonoma County Transit

355 West Robles Ave., Santa Rosa

Monday–Friday, 8 a.m.–5 p.m.

Immediately
Immediately

Soscol Gateway Transit Center

625 Burnell, Napa

Monday–Friday, 7:30 a.m.–5:30 p.m.

Saturday, 10 a.m.–2 p.m. 


Immediately
Immediately

Transportation Info Depot

Suisun City Train Depot 
177 Main Street, Suisun City

Monday–Friday, 6:30 a.m.–2 p.m.


Immediately
Immediately

Vallejo Transit Center

311 Sacramento St., Vallejo

Monday–Friday, 5 a.m.–5 p.m. 
Saturday, 8:30 a.m.–4 p.m. 


Immediately
Immediately